I went to a wedding this weekend in Newport Rhode Island and on our way back, my boyfriend and I took a shortcut through Taunton, MA. Being from NH and surprisingly unknowledgeable about paranormal places in my general area, I had never heard of the Taunton State Hospital and was especially surprised to hear it was still in operation. Of course, I made him bring me to it.
Taunton State Hospital opened in 1854 and was the second state hospital (after Worcester) in Massachusetts. It was originally called the State Lunatic Hospital at Taunton. The building, like most Asylums of its era, is architecturally breathtaking.
Photo taken by
Jeremy Harris
While browsing the
Kirkbridge site
(creators of other well known asylums like Danvers State), I found a little blurb posted by a reader about a patient at Taunton State named Jane Toppan.
"Jane Toppan of Bourne was arrested in 1901 for more than a dozen murders committed while she was working as private nurse and in several hospitals. Rather than caring for her patients, she poisoned them with overdoses of opiates. Tried in Barnstable, she was declared insane and sent to Taunton State Hospital until her death in 1938. She eventually claimed to have murdered more than 31 people as a type of euthanasia for people whose life was not worth living in her mind. Dubbed "Jolly Jane" by her patients before her crimes were known, her name on her birth certificate from 1857 was Honora Kelley. She changed her name in 1864 after she was taken in by the Toppan family. By all accounts, she suffered an unhappy childhood and mental illness afflicted her family. While at Taunton State, she was thought to have set fires to the main building more than once, and she often refused to eat the food, ironically claiming that it was poisoned."
Longer and more detailed articles on Cape Cod's first serial killer can be found
here
and
here
.
In 1975 the hospital, like all of its kind during that decade, was abandoned. In 1999, the large highly recognizable dome that towered over the administration building collapsed. And then on March 19, 2006 the building (including the adminstration and theater) caught fire.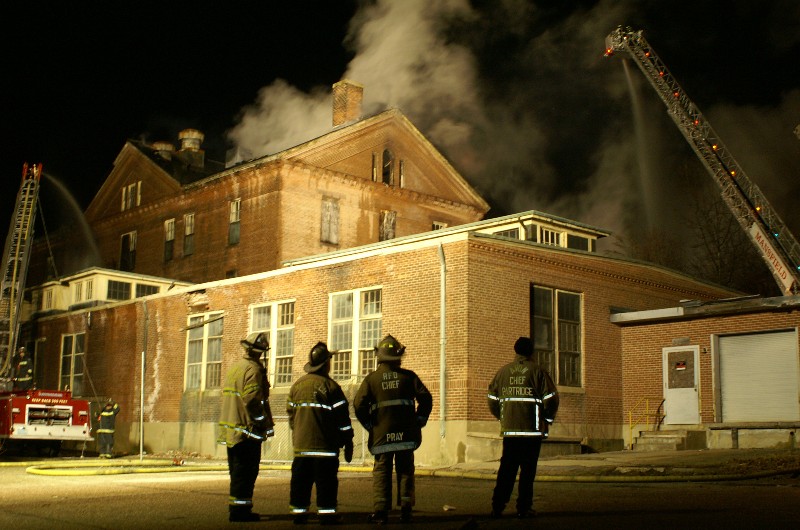 Although I'm sure the fire probably started from curious teenagers or homeless residents, I like to think it was Jane Toppan, causing mischief even after death.
Most of the sites I have found state that demolition of the property has (or will, in some of the older publications) take place, however it didn't look to me that anything had been removed. Although a few of the buildings did still appear to be boarded up, the property was surprisingly active and populated. I found a few contradictions about what the buildings are now used for but the consensus seems to be that the site is still a mental hospital, with 10 wards and 2 child/adolescent wards. I couldn't seem to find any information about when the hospital re-opened after it was abandoned. The sites that confirmed it was still in use spoke nothing of it ever being abandoned and the sites that talked about it being abandoned showed no signs of it being used today. When we were on the grounds I had no idea of its use, just that it definitely was being used for something. To my knowledge, institutions were shut down in the 70's and (beyond temporary stays at a mental ward in a regular hospital or mental help facilities) nothing of their kind have existed since. I'm blaming TSH now for me still being awake and googling mental health history five hours from now.
As we left the property through the winding road surrounded by cornfields, we saw an old man in overalls walking slowly down the side of the road toward the urban streets outside the gates. Making jokes about escaped patients and murderous hitchhikers, we slowed down to eye the walker. Not taking our accusations seriously, we were a little surprised when just as we approached, the man turned to face us and offered his empty water bottle to our closed windows while muttering to himself. From the rearview mirror, I watched as he continued to shake the empty bottle at us and my mind wandered to all sorts of unlikely scenarios...
Finding pictures of Taunton State Hospital was surprisingly difficult, no matter what name I searched under. The few that I did find gave me a hard time about posting them via html, but I thought I would post some links if you are interested in seing more.
Flickr accounts can be found
here
and
here
. Also once under flickr, if you do a general search for the building you will find more.
For Jeremy Harris's album from Taunton State, click
here
And for another site with awesome photography of Taunton State Hospital, as well as other abandoned buildings in New England, click
here
I didn't exactly get advanced permission for the use of the pictures I did find, but have tried to give proper credit and link and promote each of their sites as much as possible. If any of these are yours and you're pissed, let me know and I'll take them down. If anyone has more pictures to share, also let me know.
Haley@QueenCityGhosts.com